The Dynamic Board Duo of Mike & Mike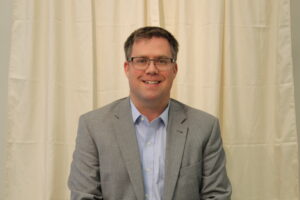 By: Erin Smith, Director of Development & Communications
Being a board member or officer of Catholic Charities of North Louisiana's board of directors comes with a hefty responsibility. The board is not only charged with maintaining the fiscal health of the nonprofit but also with guiding the organization to a fulfillment of its mission and vision.
CCNLA has been very fortunate in its mere 10-year existence to have had amazing community members serve on the board year after year. "From top to bottom, this is the best group of individuals I have ever had the chance to work with on critical issues facing our community," affirmed current board president Deacon Mike Whitehead (St. Elizabeth Ann Seton). "Every person on our board, and I do mean every person, is committed to the work. Every board member takes his or her responsibility seriously. Every board member is invested in the work of Catholic Charities of North Louisiana. We have put together a board that is talented professionally, but also has the heart for all of our brothers and sisters, and the energy and drive to do what it takes to partner with the staff to make sure the organization attains its goals."
Already familiar with the organization, Whitehead began his board service after former president Martha Fitzgerald asked him to join the board. "Like many board members, I initially was attracted to Catholic Charities of North Louisiana because of its Immigration Services," Whitehead said. "Our organization is the only nonprofit working on immigration issues in north Louisiana. I am so proud of that fact."
Similarly, attorney Mike Carney, president-elect of the board, was approached by a friend of a friend about applying for a board position. "At the time I had just begun to think about how I could do something to give back to the community," stated Carney, "so I suppose this was the Holy Spirit answering that question for me."
In the coming summer months, the two will work hand-in-hand on transitioning Carney into the role of president. Whitehead said his time as president has been a pleasure. "In the last three years, Catholic Charities of North Louisiana has exceeded its goals. We continue to serve (and I want to emphasize serve) more and more individuals. We continue to grow the staff, and we continue to impact the community in a positive way through our work. In 10 years, in 50 years, in 100 years, I hope what we have done will make a difference in the community. I pray that each person we assist feels loved and respected. In the end, it's about knowing that all of us are part of something greater than ourselves."
Carney hopes to continue to communicate the value of the organization to the faithful of the diocese, helping them recognize that Catholic Charities is the humanitarian arm of the church in North Louisiana. "We cannot continue to serve the needy in our region without continued and increasing support. I really want more Catholics in our diocese to know what Catholic Charities of North Louisiana does to help those in need and to feel a sense of ownership of the mission of CCNLA."
May 5th is Give for Good Day with the Community Foundation of North Louisiana, and CCNLA is participating! Search for us and donate at https://www.giveforgoodnla.org/catholiccharitiesnla.