Respecting the Lives

of All Nationalities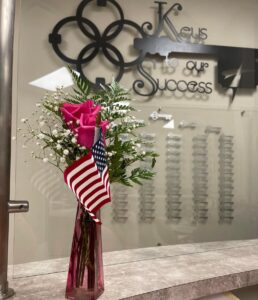 By Giselle Trejo, Immigration Advocate
R – E – S – P – E – C – T  when you think of the word respect, what comes to mind?  Respect is shown through the way you treat others.  At Catholic Charities of North Louisiana, we respect everyone that walks through our doors regardless of their current circumstances. 
In 2018, Sophia walked through our doors for help in becoming a U.S. citizen and became overwhelmed because the immigration process can be complicated and lengthy. 
Sophia was born in Haiti in June of 1990 and went to live in an orphanage because her parents didn't have the means to take care of her.  After living there for years, Sophia met the son of the Haitian lady that ran the orphanage when he came for a visit from the United States.  Over the years he would come to the orphanage often.  One visit Sophia remembers being so sad that he was leaving that she hid under the table.  He found her, hugged her, and said he would come for her again.  This man and his wife made the decision to make Sophia a part of their family in Shreveport, Louisiana.  Sophia came to the United States under a humanitarian parole in 2011 to live with her new adoptive family.  
When she came to Shreveport, she needed an English tutor.  That tutor's name was Leon and on the first day they met, Sophia knew that they would be together forever.  After dating a while,  they were married and soon they'll celebrate their fifth anniversary. 
It turns out that a child who is adopted from another country by US citizens is not automatically granted U.S. citizenship. Sophia longed to be an American like her adoptive parents and her husband.
Sophia met with a lawyer who wanted to charge an exorbitant fee for the service.  She was disappointed it was expensive, and fearful of what could happen to her.  Would she be deported?  One day, a friend recommended Catholic Charities of North Louisiana.  Once again, Sophia's life changed.
After her initial consult with CCNLA's Immigration Attorney, Briana Bianca, Sophia knew God had heard her daily prayers and placed the right people in her life to accomplish her goal of citizenship.  She applied for her Green Card (legal permanent resident status) in July 2018.  It was approved in March of 2019, and when the card came in the mail Sophia said she started screaming.  Leon ran in the room thinking something was terribly wrong, but it was all just excitement!  She knew she would have to wait two and a half years to file for her citizenship, but she could now work to save the money for the process. 
In November 2021, she sent in her citizenship application and in February of 2022 she was notified that she would have an interview in April.  Anxiety took over and she feared the interview.  What if she said something wrong? What if she couldn't answer their questions that CCNLA prepped her for, etc.?  On June 7, 2022, Sophia became a naturalized United States Citizen.  After her oath ceremony, she presented flowers to the staff at CCNLA.  Sophia teared up saying she was grateful to Catholic Charities for the respect and compassion that was shown to her throughout this process from Intake Manager, Allison Kulbeth to the entire immigration staff. 
Catholic Charities of North Louisiana is grateful to the Louisiana State Bar Foundation, Community Foundation of North Louisiana, and Grayson Foundation for supporting CCNLA's Immigration Legal Services.