Catholic Charities of North Louisiana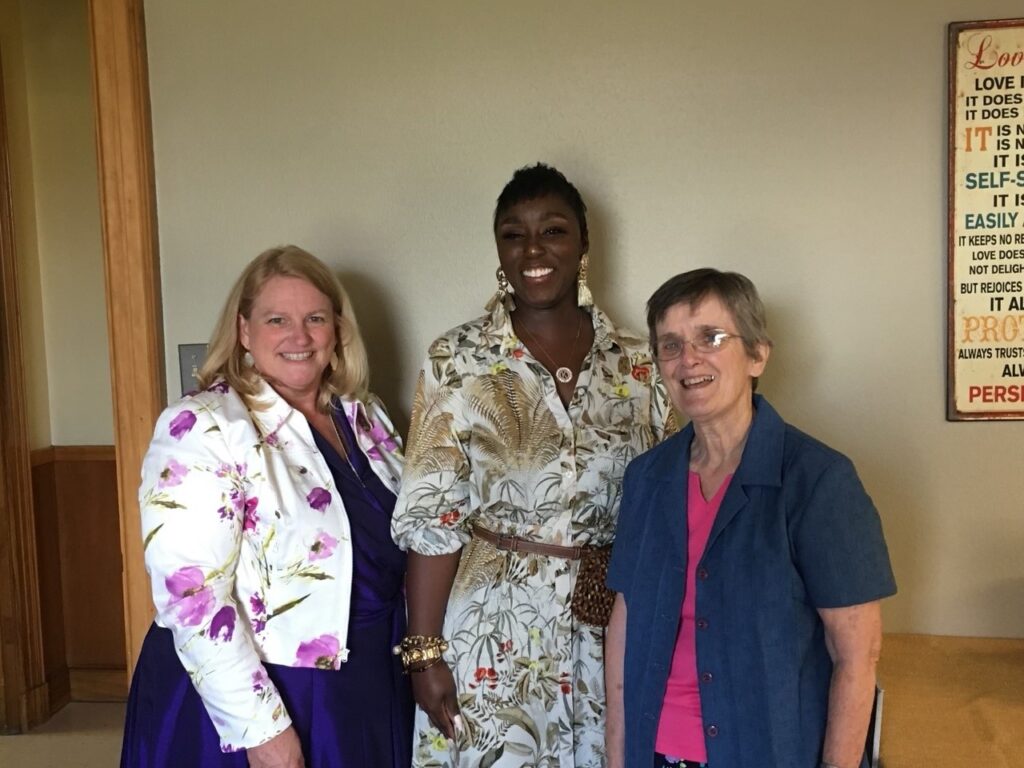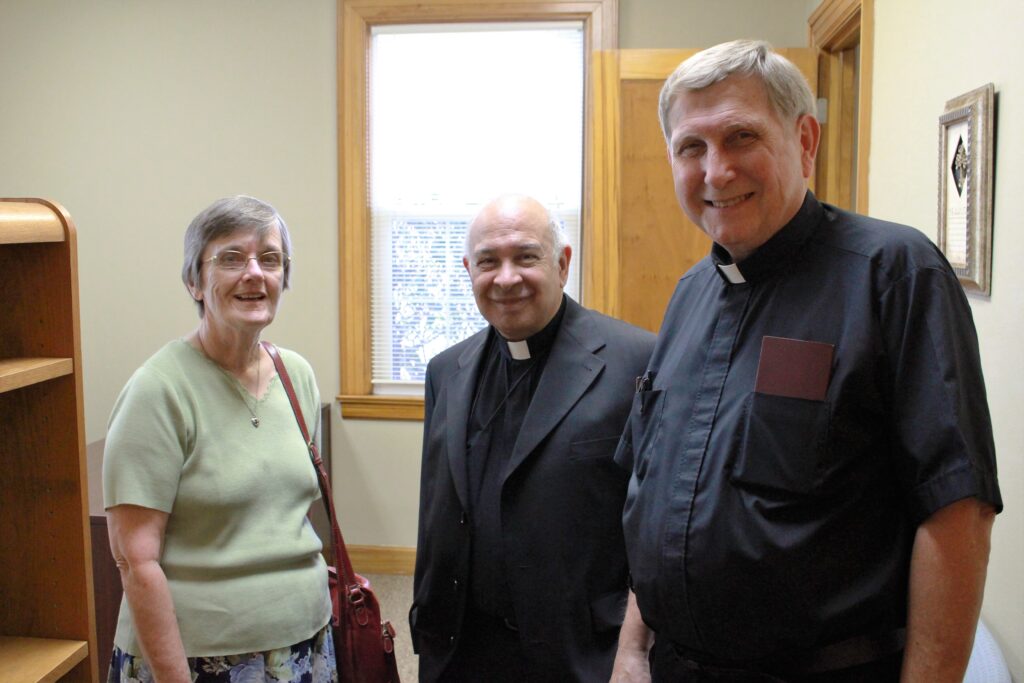 Sister Bernie Barrett Will Be Missed
By Meg Goorley, Executive Director, Catholic Charities of North Louisiana – May 2023
If you've ever been to Lake Providence, Louisiana, you've heard of Sister Bernie. Sister Bernadette (Bernie) Barrett, SHSP, has been living in Lake Providence for the past 21 years helping the poor and vulnerable by preventing homelessness, helping with work readiness, and providing hope.  She has been running the Catholic Charities office in East Carroll Parish since the day it opened in August 2013.  It is with much sadness that I am announcing her departure from Louisiana at the end of May, but also much joy to share her good news of being appointed an administrator at her Mother House, Sisters of the Holy Spirit and Mary Immaculate, in San Antonio, TX.
Born in Dublin (#6 of 10 children), this energetic scholar left Ireland after high school in 1962 to attend college. She attended Incarnate Word College in San Antonio and studied to become a teacher. Ultimately, she graduated from Our Lady of the Lake and taught in a couple of schools in Houston before taking her final vows in 1967.
Sr. Bernie taught at many poor black schools in south Louisiana where she felt comfortable with the friendly people. Her Irish brogue may have broken the ice when she spoke as an apostolic teacher. It is probably because of the trust she gained with people of all races and faiths that led her to northeast Louisiana.
In September 2002, the Region 5 Leadership Conference of Women Religious assigned 4 sisters to a poor town in Lake Providence, Louisiana, for a project to make a difference with their presence. These sisters, two African Americans from the Holy Family order out of New Orleans, one from the Daughters of Charity, and Sr. Bernie were to live in community (all in a trailer) as an example to everyone, and they were to use their talents to bring the community together and work with women and children to bring them hope. All of them were educators and three of them volunteered at schools and one volunteered at a nursing home. Eventually, all of them left but Sr. Bernie—she spent eight of the 21 years there by herself.
Did she get lonely? If she ever felt she needed to talk to anyone, she would simply go outside and spend time with the people of Lake Providence. Everyone knew who she was. It was also helpful that her Mother House would send her back to Ireland every couple of years to visit her family.
It has been a privilege for me to get to know Sr. Bernie. She is the "favorite" among all the staff of Catholic Charities. She is a tiny hard-headed mastermind who figures out how to solve a problem her way. She is hard on our clients while she is teaching Money $chool®, yet she is compassionate with them because she understands that "things happen" and everyone needs help with their challenges. God put Sr. Bernie in my life for a reason—and I am a better person for knowing her.


Respecting the Lives

of All Nationalities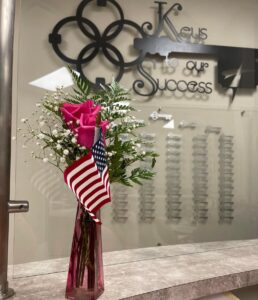 By Giselle Trejo, Immigration Advocate
R – E – S – P – E – C – T  when you think of the word respect, what comes to mind?  Respect is shown through the way you treat others.  At Catholic Charities of North Louisiana, we respect everyone that walks through our doors regardless of their current circumstances. 
In 2018, Sophia walked through our doors for help in becoming a U.S. citizen and became overwhelmed because the immigration process can be complicated and lengthy. 
Sophia was born in Haiti in June of 1990 and went to live in an orphanage because her parents didn't have the means to take care of her.  After living there for years, Sophia met the son of the Haitian lady that ran the orphanage when he came for a visit from the United States.  Over the years he would come to the orphanage often.  One visit Sophia remembers being so sad that he was leaving that she hid under the table.  He found her, hugged her, and said he would come for her again.  This man and his wife made the decision to make Sophia a part of their family in Shreveport, Louisiana.  Sophia came to the United States under a humanitarian parole in 2011 to live with her new adoptive family.  
When she came to Shreveport, she needed an English tutor.  That tutor's name was Leon and on the first day they met, Sophia knew that they would be together forever.  After dating a while,  they were married and soon they'll celebrate their fifth anniversary. 
It turns out that a child who is adopted from another country by US citizens is not automatically granted U.S. citizenship. Sophia longed to be an American like her adoptive parents and her husband.
Sophia met with a lawyer who wanted to charge an exorbitant fee for the service.  She was disappointed it was expensive, and fearful of what could happen to her.  Would she be deported?  One day, a friend recommended Catholic Charities of North Louisiana.  Once again, Sophia's life changed.
After her initial consult with CCNLA's Immigration Attorney, Briana Bianca, Sophia knew God had heard her daily prayers and placed the right people in her life to accomplish her goal of citizenship.  She applied for her Green Card (legal permanent resident status) in July 2018.  It was approved in March of 2019, and when the card came in the mail Sophia said she started screaming.  Leon ran in the room thinking something was terribly wrong, but it was all just excitement!  She knew she would have to wait two and a half years to file for her citizenship, but she could now work to save the money for the process. 
In November 2021, she sent in her citizenship application and in February of 2022 she was notified that she would have an interview in April.  Anxiety took over and she feared the interview.  What if she said something wrong? What if she couldn't answer their questions that CCNLA prepped her for, etc.?  On June 7, 2022, Sophia became a naturalized United States Citizen.  After her oath ceremony, she presented flowers to the staff at CCNLA.  Sophia teared up saying she was grateful to Catholic Charities for the respect and compassion that was shown to her throughout this process from Intake Manager, Allison Kulbeth to the entire immigration staff. 
Catholic Charities of North Louisiana is grateful to the Louisiana State Bar Foundation, Community Foundation of North Louisiana, and Grayson Foundation for supporting CCNLA's Immigration Legal Services.